Postgraduate Diploma (HETL)
Overview
The Postgraduate Diploma in Higher Education Teaching and Learning (PgDip (HETL)) programme in UNIMAS aims to produce competent and inspiring tertiary educators who are well-equipped with contemporary and advanced knowledge and skills in teaching and learning as to enable them to function effectively in a variety of learning environments. This programme focuses on developing its students' capabilities to enhance teaching and learning via scientific and problem-solving skills; employ various transformative teaching and learning delivery and alternative assessment methods in support of Industrial Revolution 4.0; conduct critical reflection and analysis as scholarly practices as well as use and create technological solutions and/or innovations to enhance teaching and learning processes.

The Centre for Applied Learning and Multimedia (CALM), Universiti Malaysia Sarawak (UNIMAS) is the first university that offers such a programme in Sarawak. Historically, this programme has been provided internally to UNIMAS academics since 2003. To date (as of September 2018), the programme has produced 449 graduates and received numerous glowing testimonials from our alumni. The programme welcomes its first intake of students (applicants outside of UNIMAS) starting from September 2019.
Who Should Apply
 College / Polytechnic / Institute / University lecturers
 Working adults who are interested in pursuing careers in higher education
 Education officers and administrators
 Fresh graduates from a wide range of academic backgrounds who are keen to pursue a career in higher education and training
Ten Reasons For Choosing This Programme
Accredited by MQA and MOE
Delivery via the blended learning approach
Employs alternative assessments such as project-based, practicum, and non-exam-based
Incorporates transformative teaching and learning delivery
Conducive teaching and learning facilities that support collaborative learning
Flexible mode of study: full time and part time options are available
Conducted by a group of highly qualified and experienced scholars
Provides know-how in facilitating learning
Provides knowledge in enhancing student learning via systematic inquiry
A well-structured and comprehensive programme focusing on significant teaching and learning aspects in higher education
Interested candidates are welcomed to apply online via http://www.postgrad.unimas.my or directly visit the UNIMAS website for Online Application for Graduate Studies at https://cgsweb.unimas.my/PGApplication
Programme Duration & Schedule
The programme intake is in September, and the programme can be completed within ONE (1) year (minimum)

 Full Time: 1-2 year(s)
 Part Time: 2-3 year(s)
Teaching and learning activities for this programme are conducted during weekends (Saturdays and Sundays).
Programme Educational Outcome (PEO) & Programme Learning Outcome (PLO)

Programme Educational Outcome (PEO)
Use knowledge and skills that enable them to work effectively in a range of educational settings;
Foster informed insights, awareness of, interest in and commitment to the aims and values inherent in the theory and practice of education, in various contexts within the educational settings;
Commit to raise standards of education and use problem solving and scientific skills to implement the curriculum relevant to the needs of learners in particular educational settings;
Demonstrate a capacity for reflection and critical analysis of scholar teacher's own practice and, anticipate and use innovation for continuing professional development; and
Continuously and incrementally develop general knowledge and diverse individual talents and their fullest potentialities.


Programme Learning Outcome (PLO)


Demonstrate the uses of knowledge and skills which enable them to work effectively in a range of educational settings;
Foster the development of informed insights into the cultural, social, political, economic and religious contexts within which schooling takes place;
Demonstrate an awareness of, interest in and commitment to the aims and values inherent in the theories and practices of education;
Commit to raising standards of education and improving student progress;
Demonstrate the capacity to use problem solving and scientific skills in implementing the curriculum relevant to the needs of learners in any educational settings;
Demonstrate a capacity for reflection and critical analysis of their own practice and for their own continuing professional development;
Demonstrate an understanding of the changing world and foster the development of professional mind-sets which can objectively weigh, make decisions, anticipate and accommodate innovation;
Continuously and incrementally develop encyclopedic general knowledge and diverse talents, and potentialities;
Demonstrate the ability to engage in an entrepreneurial mind-sets by developing commercialisable technology-based learning environments;
Develop expertise in teaching, coaching and mentoring and build credibility to become role models in appropriate educational contexts; and
be actively engaged in contributions to community development through professional organizations or other voluntary organizations.
Programme Structure
The PgDip (HETL) programme comprises of eight courses, all of which amounting to 32 credits (4 credits per course). Students will be assessed using various forms of assessments. However, no written final examination is included. The curriculum is a combination of coursework and practicum.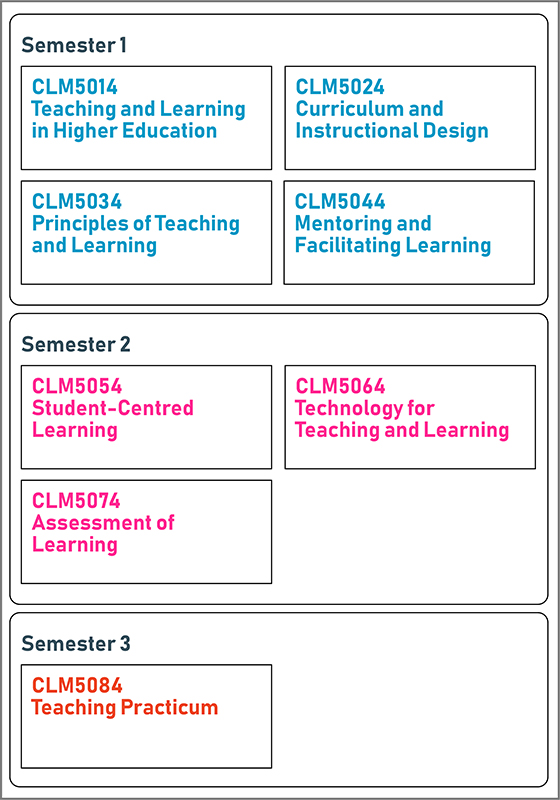 Entry Requirements
For admission into the programme, a candidate must meet the following criteria:
A Bachelor's degree with a minimum CGPA of 2.50 or equivalent from institutions approved by UNIMAS Senate
OR


A Bachelor's degree or equivalent but CGPA less than 2.50 may be admitted subject to a minimum of five years' working experience in the relevant field
AND


For international students, an IELTS score of 5.5 or equivalent (i.e., TOEFL-525; TOEFL Computer Test-196; TOEFL Internet Test 69-70) is required, in addition to the entry requirements stated above
Facilities and Resources
The university provides various facilities and resources to support your study:
 Centre for Academic Information Services (CAIS)
 Collaborative Learning Spaces
 e-Learning Enrichment and Advancement Platform (eLEAP)
 Production Studios (MOOC Studio & i-Studio)
 Computing Facilities
 Residential Colleges
Course Fees
Malaysian student: RM 14,300.00  
International student: RM 23,444.00
Fees include administrative, tuition, and course materials for the duration of the programme. Further payment will be required if students extend their studies.
Contact Us
You can visit us at our webpage at www.calm.unimas.my/pgdip. You can email us at
pgdip@unimas.my.


Dr Agatha Lamentan Mudai
PgDip (HETL) Programme Coordinator
Centre for Applied Learning and Multimedia
Universiti Malaysia Sarawak
94300 Kota Samarahan
Sarawak, Malaysia
Tel: +(60-82) 581531 / 583701 / 583680
Fax: +(60-82) 583676
Mrs. Siti Lydiawati Sahmat
Senior Assistant Registrar
Centre for Applied Learning and Multimedia
Universiti Malaysia Sarawak
94300 Kota Samarahan
Sarawak, Malaysia
Tel: +(60-82) 583699
Fax: +(60-82) 583676
Mrs. Siti Rogayah Taibi
PgDip (HETL) Senior Administrative Assistant
Centre for Applied Learning and Multimedia
Universiti Malaysia Sarawak
94300 Kota Samarahan
Sarawak, Malaysia
Tel: +(60-82) 583682
Fax: +(60-82) 583676